It's the most wonderful time of the year... or is it?
Christmas Eve is a night of mystery and magic, but not always in ways we expect. Things lurk in the shadows and they're not the least bit jolly or merry. Let's just say some presents are better left unopened.
'Tis the season to be screaming along with our thirteen tales of holiday horrors. Ghosts, Monsters, Demons and more!
This Christmas be careful what you wish for.
When I saw an email for this book tour in my inbox I just knew I had to be part of it! I love both Christmassy reads and horror, so what could be better than putting these two together into an anthology of short stories. Each story is by a different author, and each one is extremely talented in their work. The book was quite short and each story took around ten minutes to read which makes it perfect for anyone with a busy schedule who finds it difficult to find time to read a novel.

Each story is interesting and comes with it's own twists and turns. I loved the variety of writing styles, with some of the stories being in third person and others being in first. I love a good plot twist, and many of them ended in really unexpected ways which I loved. A few of them seemed to mimic my favourite horror writers, Stephen King and Edgar Allen Poe, with one story even giving a nudge towards Poe's A Tell Tale heart.

One of the stories that really stood out for me was North Poal Coal by Patrick Hueller. I found the idea of Santa putting coal in the stockings of naughty children being taken literally to be a really clever idea, and I loved both the child's and the parents concern. It was also interesting that it also applied to adults, and the parents were worried about saying anything bad about Santa in case they were put on the naughty list. I also loved that what happened to children who were really naughty was never fully explained, which let the readers imagination go to dark places.

I loved all of these stories and although it's possible to read them in ten minute intervals, I found myself going from story to story and reading the majority of the book in one sitting. I wish I could share my thoughts on each story, but unfortunately that would mean a pretty lengthy review! As someone who has wrote both novel length stories and short stories, I have found that short story writing can actually be more difficult, as a lot of information has to be packed into a small amount of words. These authors all have the technique of writing a short story down perfectly. There is little build up to what is about to happen apart from a little foreshadowing which only adds to the stories, and they immediately get down to the action and horror.

I do however feel as if some of them could have been a little more creepy, as not many managed to put me into a too scared to sleep state. I always find that reading horror stories tend to scare me a lot more than watching a horror movie, but unfortunately this anthology failed to terrify me.

Although these stories may not be as unnerving as a Poe story, they are still a great read for anyone who finds reading novels too tedious, or if you simply enjoy reading short stories now and again. I recommend this book for anyone looking for a christmassy read with a bit of a twist.
Fright Before Christmas is now available for pre order! Get it for just $1.99 through November 29th
Be sure to check out the book trailer below!
Feel free to enter the giveaway to win a $10 Amazon gift card
a Rafflecopter giveaway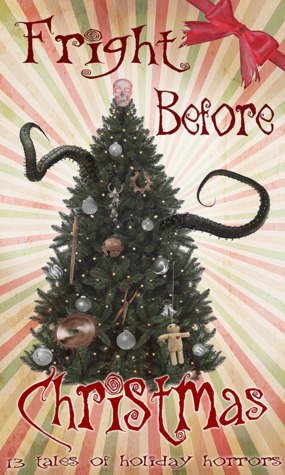 Enter Giveaway